Recruitment includes all outreach, educational and supporting activities that an organization uses to interest and help an individual or family become a resource parent. This includes all activities from outreach or first contact to placement of a child with an approved resource parent.
Recruitment is impacted by every interaction a family has with an agency. Recruitment is the responsibility of everyone in the agency.
Remember: People talk to other people and you cannot predict the ripple effect.
All agency personnel should treat families, of which we do not have nearly enough, as potential resources for children. We tend to think we can weed out families who won't do well and so are therefore justified in being impatient, curt or in actively discouraging a particular family. Maybe we can, but we are not always right—and we'll never know how many times we ruined a chance for permanency for one of our children.
Recruiting families takes special skills, from recruiting activities in the community to answering phone calls from prospective resource families. Not everyone is the right person to take calls from prospective families. This is not necessarily a task suitable for clerical staff or student interns, as these individuals may not possess the right tools and techniques to engage prospective families.
Affiliate agency family recruiters should have many tools for the job including:
Knowledge
Welcoming attitude
Pleasant phone voice
Willingness to encourage family
Ability to answer questions but not spend hours giving all the information a family will learn at orientation
Ability to recognize a family does not yet understand the adoption process and cannot be expected to know that wanting a child for Christmas is neither a good motivation nor a realistic expectation
Do not underestimate the power of following up after an initial contact is made with a family. Families need to be engaged and feel important so agencies should first follow up with a mailing and then another follow-up response, which is a best practice and improves retention.
While it may not seem like it, recruiting resource parents is actually the easiest part of the process. The challenge is to engage them so they continue to want to be resource families! Retention is the core of recruitment. Families who are happy to work with you do the best advertising. In other words, your best recruitment activities will be valuing and supporting the families you have. Foster families come into contact with lots of people in the community. It only takes a word to someone else about your agency to cause a huge ripple effect, and you want that word to be positive.
From the beginning—from the first phone call through orientation, preparation, the family profile and matching—these are all opportunities to purposefully and actively engage families. Professionals may unwittingly be condescending, impatient or sometimes even rude—unwilling to return calls or avoiding calls from certain families. As professionals we need to be aware of our personalities, how we react to families and begin to change our perceptions if we are to successfully engage families. The place to start is to understand where a family is in their process.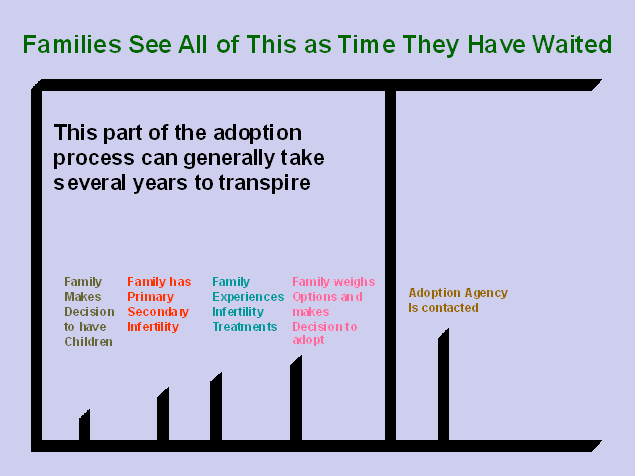 Keep in mind that ALL families have taken time to consider adoption before they contact an affiliate agency. It may seem like just a call or contact from a potential resource family to the agency worker, but it is very important for that family to feel welcomed and engaged right away. Engaging a family needs to begin the moment they step into our time and place. Agencies can do this by:
Spending sufficient time with families (either on the phone or in person)
Requesting feedback from a family
Being clear and specific about expectations
Providing the family with choices
Asking for a commitment
Involving families in the planning process
Providing services that are relevant to each individual family
Focusing on skills of a family as well as individuals within the family
Retention during Orientation
We must engage families during orientation by making training accessible, community-based and during non-traditional hours. You should include current resource families and invite youth to participate. Meet families where they are, and tolerate their lack of knowledge about the adoption process or medical knowledge. Offer information that families want to know as well as information that families need to know. Patiently use all of these opportunities to develop families.
Orientation is part of the family preparation process. Families all come into orientation from various places (educationally, emotionally, etc.). This does not mean they will stay at this point. In fact, we want families to grow and develop through the process. We start development by giving families knowledge. No one comes to the agency wanting to tackle all the issues we talk about in training. Don't hold their reactions against them. Use those reactions to ENGAGE and TEACH the family to expand their understating of the children awaiting permanency in Pennsylvania.
Retention during Preparation
We start family development by giving them knowledge! Let the families know why it is important to learn the information presented to them and show them how this information will aid them in being a successful resource parent. Create a supportive atmosphere during family training that is not judgmental and is not so focused on ruling out families. Instead, learn to recognize and develop the best in every family.
Allow families to participate and learn from correct responses as well as when their responses are not the best. When people are vulnerable they try to avoid pain and embarrassment.
Assure they feel comfortable about and can learn from these wrong responses as well as from the correct ones. Biases and misperceptions are changed over time as new information is processed and understood. Provide information in various ways. People have different learning styles, and you need to be sure you meet the needs of your families. Also keep in mind that families need feedback and praise from the agency throughout the family profile process. This keeps them engaged and builds a positive relationship between the family and the affiliate worker.
Workers need to believe people can learn, develop and change and that this is the work of family preparation. We are developing the family through education and support to meet the needs of the children for whom they will become permanent resources!
Retention of Approved Waiting Families
Throughout our work with families we can and should continue to build positive, trusting relationships with them. In order to do so you should plan for lots of activity and interaction. This should not be a passive time.
Agencies have many tools to help build this positive relationship. They can start by developing a "matching plan" with the family. They should continue to review this "matching plan" with the family frequently and discuss what work is being done according to the matching plan. Perform an annual review of the family situation. If unmatched, determine possible reasons and make necessary changes to the matching plan. Update the CY 131, if applicable.
Agencies should expose families to information about waiting children. The family should know about the adoptpakids.org website, where they can view some of the children currently waiting for adoptive families in Pennsylvania. The agency should request searches through the Pennsylvania Adoption Exchange, PAE, and share information about the children potentially matched through this resource.
Families can be given opportunities to interact with children and youth through matching parties or at matching events locally, regionally or statewide, such as the SWAN Summer Statewide matching brunch. Agencies can encourage gatherings that connect waiting families and families who already have placements. Encourage family participation in affiliate functions, events and trainings.
---